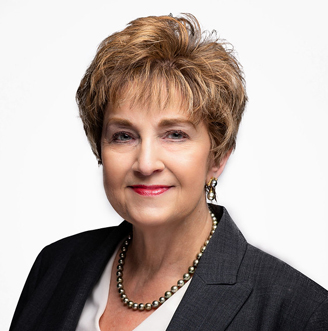 Mary C. O'Connor is Of Counsel at the law firm of O'Connor & Battle, LLP. Ms. O'Connor has a well-established trial practice in the area of medical malpractice defense. For over 30 years she has represented hospitals, physicians, and related health care providers in complex disputes involving allegations of medical negligence. She has achieved the highest possible rating of AV® Preeminent™ from Martindale Hubbell Law Directory. She is also recognized in Illinois Super Lawyers listing and in the Bar Register of Preeminent Women Lawyers.
Previously, Ms. O'Connor was a partner and lead trial counsel of healthcare defense clients with a commercial litigation and property law firm offering specialized legal services to the insurance industry. Her active trial practice in Chicago focused on the representation of insureds and self-insured entities defending significant liability claims, medical malpractice cases, and professional liability matters.
Ms. O'Connor began private practice with a Chicago litigation law firm as an associate; within four years, she was named a litigation partner and focused extensively on the defense of casualty claims, product liability, professional negligence and civil rights cases in both state and federal courts. She commenced her legal career working for the Cook County State's Attorney's Office where as appellate counsel she argued cases in both the 1st District Appellate and Supreme Court. She became one of the first women to rotate through Felony Review, next serving as first chair in a felony courtroom at 26th and California, where she ultimately tried more than 30 felony cases to jury verdict.
Ms. O'Connor has successfully litigated cases in both federal and state courts. In addition to her trial experience in the criminal courts, she has tried almost 30 jury trials to verdict in Cook and the collar counties most to victory, in her distinguished career. Her work ethos is based on attention to detail and critical thinking in shaping her strategies and cross examinations. She finds there is no substitute for hard work and preparation. Her practice is built on a base of loyal and confident health care specialists and facilities. She has mentored many young lawyers to successful careers in the field of litigation and is proud to pay it forward while practicing law from the platform of a female and minority owned law firm.